Hello,
I have a device publishing data to Golioth LightDB State. The expected data is being updated correctly every minute.
Now, I want to confirm that the data source is returning data correctly using, for example, websocat.
LightDB State: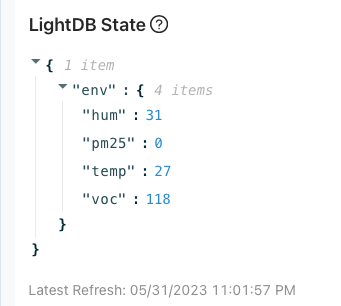 When I use websocat and let it run for ~5 minutes, I don't see any data being retrieved. I do see the LightDB State get updated every minute.
What am I doing incorrectly? Thank you.
$ websocat wss://api.golioth.io/v1/ws/projects/aqw1066/devices/mydeviceid/env/voc?x-api-key={myapikey}
{"code":5,"message":"Not Found","details":[]}